NHK WORLD Direct Talk:
「Fighting to Live True to Yourself – Chi Chia-wei 同性婚活動家 チー・チャーウェイ 〜台湾〜」
私たちAsiaVox台湾がコーディネイトした作品を紹介します。
番組紹介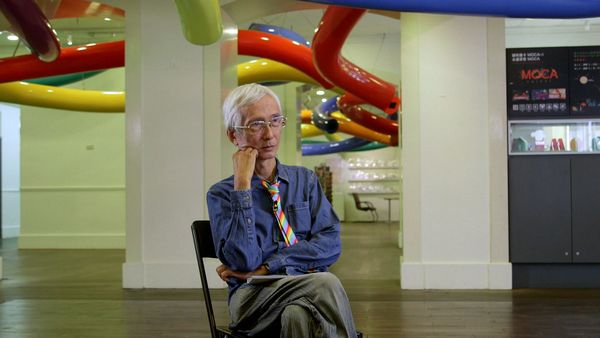 Chi Chia-wei has fought for gay rights for over 30 years, and is a key player in Taiwan's move towards legalizing same-sex marriage – a first in Asia if realized. He speaks about his long crusade.
---
The following are excerpts from our interview.

In order for gay couples to truly have equal rights in society, we should have the right to marry and have a family, like heterosexual couples.

For the first 20 years, I was a one-man force. I was negotiating with different governmental departments. I pressed for the Taiwanese legislature to write up a bill. Maybe my ideals were too advanced at the time, but no official paid me any attention. To them, same-sex marriage violated public order and morals, and I was going against traditional Taiwanese culture.

From a little while ago, young people started creating various organizations, for causes such as gay rights and AIDS advocacy. Over 100 of them have been established. The youths said my fight had given them courage. My work had provided them with a foundation. It's like the Chinese idiom, "the predecessor plants trees for the successor to enjoy the cool breeze."

Society's norms don't change in a short period of time. Yesterday and today won't feel that different. But in 10, 20, and 30 years, there can be huge changes.
アジアヴォックスの紹介
私達、アジアヴォックス番組制部では、中国を始めとして、台湾・香港・韓国・インド・スリランカ・ネパール・バングラデシュ・フィリピン・ベトナム・モンゴル・アイルランドなどアジアを中心に「民の声は神の声」を原点に!ドキュメンタリー番組の企画・制作・リサーチ・コーディネートを行っています。スリランカではメディアスクール・インドでは劇映画の輸入・バングラデシュではテレビドラマの制作を行っています。その他、中古車や日本食材の輸出・国内外の不動産業を行っています。
アジアヴォックスの実績紹介はこちら。
海外事業所:
| | |
| --- | --- |
| 中国/Asia Vox China: | 中国上海市松江区泗滨路666弄4-503室 |
| 香港/Asia Vox Hong Kong: | 31B Tower 3, The Visionary, 1 Ying Hong St., Tung Chung, Hong Kong |
| 台湾/Asia Vox Taiwan: | 台北市復興北路488-15 |
| 韓国/Asia Vox Korea: | ソウル市鐘路区芝峯路81 BROWN STONE 101洞1204号 |
| インド/Asia Vox India: | A-401, Malay Gokuldham Society, Near to Airport, Indore, Madhya Pradesh |
| スリランカ/Asia Vox Sri Lanka: | No 67, Wanatha Road, Gangodawila, Nugegoda |
| ネパール/Asia Vox Nepal: | House no. 86, Rani Devi Marg, Ward No.3, Lazimpat, Kathmandu |
| バングラデシュ/Asia Vox Bangladesh: | 20/B Monipuripara, Tejgaon, Dhaka-1215 |
| フィリピン/Asia Vox Philippines: | Bulacan St., Mt. View, Balibago, Angeles City, Pampanga |
| アイルランド/Asia Vox Ireland: | c/o Pat Ryan, Glenside, Portlaoise, Co. Laois |
| モンゴル/Asia Vox Mongolia: | Mongol News Building, Juulchin Street, Ulaanbaatar |
ASIAVOX 東京都新宿区高田馬場1-26-12-701 TEL 03-5292-2342 FAX 03-5292-2341