NHK WORLD Direct Talk:
「Survival Strategy for a Global Enterprise Tony Lo 〜台湾〜」
私たちAsiaVox台湾がコーディネイトした作品を紹介します。
番組紹介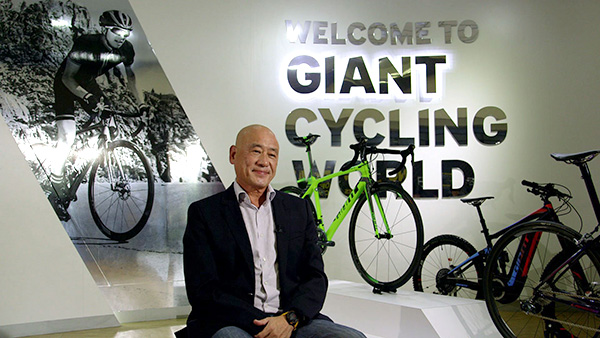 Tony Lo, former CEO and now advisor to bicycle behemoth Giant, grew a small Taiwanese OEM into a global business. We asked him for his idea of the best business model for our globalized world.
---
The following are excerpts from our interview.
Everything is like a bicycle. Everything is like a bicycle; your life, whatever. Bicycle is something you need to be balanced, right? If you don't balance, you will fall. The best way to balance is to go forward. So for GIANT, we keep riding our bicycle, keep going forward. If you stop, then you'll fall.
Now, our goal is how to promote a cycling culture.
So-called Ubike, the public share-bicycle (system.) Right now in Taiwan, Taipei City… 6 cities. GIANT is operating that. So in Taipei City in the past, you only see car, motorcycle or subway. There was no bicycle. But right now, even in Taipei, you have 400 stations, and about 10 thousand bicycles, being used every day by the citizens.
Everybody is very happy. Not only is bicycle good for health, also bicycles are good for the environment.
Because of cycling, they are more healthy. Their life becomes better. And the Earth becomes more beautiful. So this has become our mission.
アジアヴォックスの紹介
私達、アジアヴォックス番組制部では、中国を始めとして、台湾・香港・韓国・インド・スリランカ・ネパール・バングラデシュ・フィリピン・ベトナム・モンゴル・アイルランドなどアジアを中心に「民の声は神の声」を原点に!ドキュメンタリー番組の企画・制作・リサーチ・コーディネートを行っています。スリランカではメディアスクール・インドでは劇映画の輸入・バングラデシュではテレビドラマの制作を行っています。その他、中古車や日本食材の輸出・国内外の不動産業を行っています。
アジアヴォックスの実績紹介はこちら。
海外事業所:
| | |
| --- | --- |
| 中国/Asia Vox China: | 中国上海市松江区泗滨路666弄4-503室 |
| 香港/Asia Vox Hong Kong: | 31B Tower 3, The Visionary, 1 Ying Hong St., Tung Chung, Hong Kong |
| 台湾/Asia Vox Taiwan: | 台北市復興北路488-15 |
| 韓国/Asia Vox Korea: | ソウル市鐘路区芝峯路81 BROWN STONE 101洞1204号 |
| インド/Asia Vox India: | A-401, Malay Gokuldham Society, Near to Airport, Indore, Madhya Pradesh |
| スリランカ/Asia Vox Sri Lanka: | No 67, Wanatha Road, Gangodawila, Nugegoda |
| ネパール/Asia Vox Nepal: | House no. 86, Rani Devi Marg, Ward No.3, Lazimpat, Kathmandu |
| バングラデシュ/Asia Vox Bangladesh: | 20/B Monipuripara, Tejgaon, Dhaka-1215 |
| フィリピン/Asia Vox Philippines: | Bulacan St., Mt. View, Balibago, Angeles City, Pampanga |
| アイルランド/Asia Vox Ireland: | c/o Pat Ryan, Glenside, Portlaoise, Co. Laois |
| モンゴル/Asia Vox Mongolia: | Mongol News Building, Juulchin Street, Ulaanbaatar |
ASIAVOX 東京都新宿区高田馬場1-26-12-701 TEL 03-5292-2342 FAX 03-5292-2341